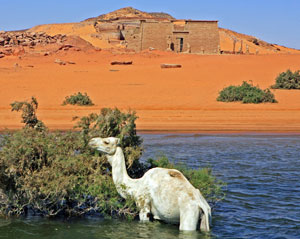 Welcome to Lake Nasser, Egypt's natural treasure, which is the perfect place to relax for a few days after the hustle and bustle of the crowded tourist sites of the Nile Valley?
In addition to spectacular desert panorama Lake Nasser also has an impressive biodiversity. The residents are nomadic herdsmen who graze their flocks on the sparse vegetation at the edge of the Lake. There are also several important Nubian archaeological sites the most notable are the magnificent temples at Abu Simbel. The fish populations of the original river system were presented with a huge lake to live in and are thriving in their new habitat, especially the Tilapia and their predators, Nile perch, Tiger fish and big catfish.
If you interested in nature and the outdoors and would like an experience of the Sahara Desert, then include a small boat safari into your itinerary when you visit Egypt.
Small Boat Safari
The best way to experience Lake Nasser is to come on a small boat safari which is a much more rewarding adventure than to travel down the lake in a huge cruise ship. A small boat safari is as close to the real meaning of the word safari as you are likely to find. On an east African style safari 4x4 vehicles are used for travelling, while support trucks carrying the equipment and safari staff go on ahead to set up comfortable luxury camps. Our safaris are the same except we use live aboard boats supported by well-appointed mother ships instead of land vehicles. Days are spent exploring this picturesque desert lake in your own private live aboard boat then at lunch time and in the evenings meet up with your mother ship where meals and drinks are enjoyed in relaxing social surroundings.
In 1993 we had the privilege of pioneering small boat safaris on Lake Nasser and over the past 20 years have become a household name in the angling world. Using this in-depth experience plus an inherent love of the natural world we also operate popular nature and wild life related safaris.
Choose the activity you are most interested in
Desert Lake Experience

There is a lot to see and do, in many ways it's like visiting a game park where you will have fun going for easy walks in a beautiful desert environment, viewing spectacular bird and wild life, at the same time enjoying the experience of a comfortable boat safari waited on 'hand & foot' by a capable team of Nubian safari staff and guides.
"The kind of hospitality shown by Tim and his guides is seldom seen these days and the atmosphere was incredibly friendly " Steve Pitts
Nile Perch Fishing
Lake Nasser is famous for its Nile perch and there is also the added bonus of exciting lighter tackle action targeting the hard fighting Tiger fish or night ledgering for the big Vundu and Bagrus catfish. Most anglers will catch the largest wild fresh water fish of their life and have an angling adventure they will never forget.
"Another interesting experience is shore fishing… Where else, for instance, can you work artificial lures from the shore anywhere in the world, either in fresh or salt water, and encounter wild fish in the 20lb to 100lb category. Nasser is quite unique in this kind of experience, believe me!" John Wilson MBE England's best known angling writer and TV personality