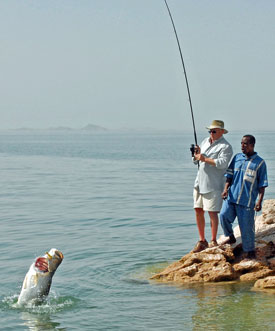 You can come for a day's fishing for Nile perch on any day of the year. We will collect you from your hotel or cruise ship at 07.30am and then transfer you to the lake for a day fishing which ends at approximately 4.30pm when transfer you back to any location in Aswan; depending on your onward travel arrangements.
An experienced English speaking fishing guide will captain the fishing boat. There will also be plenty of opportunities for bank fishing. We provide each angler with a set of three rods, reels and a box full of lures and terminal tackle; you only have to pay extra if you lose any lures. A quality picnic lunch is included and there is an ice box full of soft drinks and beer, which are charged for according to consumption.
Choice of Fishing Boat
You can come day fishing in either a standard Fishing Boat or a House Boat and Fishing Boat combination, depending on your preference.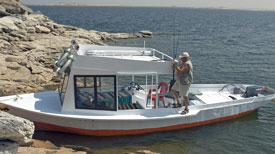 Fishing Boats will comfortably accommodate two anglers and can take up to three people; when more than three people book together we will provide extra fishing boats, each extra fishing boat taking up to a maximum of three persons in each boat. Fishing boats are divided into two sections, cabin and living area and the fishing decks. The bow deck and stern decks provide ideal casting or trolling platforms and there is also an all-round deck in case a quick manoeuvre is needed when a big fish takes a dive under the boat.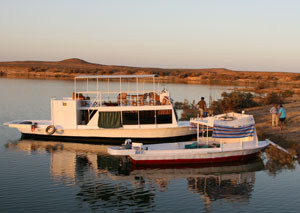 House Boat & Fishing Boat Combo: Travel comfortably aboard a house boat which has an on board toilet and shower and small galley and use a fishing boat for fishing. House boats accommodate up to six people which make them ideal for including your family for an outing to Lake Nasser; while the family explores the lake in the house boat you can go fishing in the Fishing boat. There will also be plenty of opportunities for bank fishing.
Fishing Permit: It is a requirement by the authorities that we have to get you a permit to visit the lake in advance, to obtain this permit we need a clear photocopy of the main information page (with your photograph) of each person's passport; there is no need to copy any visa pages. These passport copies MUST reach us at least 24 hours before your day fishing starts otherwise we will not be able to get your permit in time.
Please send us your passport copy by either of the following methods:-
Send a scan by e-mail to

This email address is being protected from spambots. You need JavaScript enabled to view it.

Take a digital camera picture of the information page of your passport and send us the picture to

This email address is being protected from spambots. You need JavaScript enabled to view it.